3 BHK House plan for 35′ x 30′ area 1048 Square Feet
Howdy,
Who does not want to make his house with his dream? But sometimes people do not find out what is the best possible plan for his house.
People who are finding the best house plan to construct a 3 BHK home above 35′ x 30′ area, then below is the best suitable plan for you. I am discussing the detail of the 3 BHK House plan for 35′ x 30′ area.
In this article, I am discussing a 3 BHK Ground floor residential building plan with 1048 Sq. ft floor area. This is a very simple plan.
House Plan for 24 x 35 ft plot Area with Elevation II 3 BHK House Plan II East Facing House Plan
2d Floor Plan
Details of This Plan
In this Plan the home is established over a rectangular place, at the front, there are two verandahs attached with two-room, the shape of the verandah is 3275 mm x 915 mm both, and there is also a Siting place at the central front. the sitting place roof slab is triangular and is finished with terracotta tile. Another size of the rooms is below.
Floor Area- 1048 Sq. ft.
Room Size-
Bed Room 1- 3300 mm x 3600 mm (11'x12′)
Bed Room 2- 3300 mm x 3600 mm (11'x12′)
Bed Room 3-3300 mm x 3600 mm (11'x12′)
Drawing Cum Living Room- 3300 mm x 3725 mm (11'x12'5")
Kitchen Block-1723 mm x 1560 mm
Toilet- 1500 mm x 1500 mm (5′ x 5′)
Dining-3300 mm x 1950 mm (11′ x 6'6")
Stair Block- 3000 mm x 3600 mm (10′ x 12′)
Stair Case Landing 1000 mm x 1000 mm (3.4′ x3.4′)
Stair Steps- Rise -160 mm Tread- 205 mm

3d Floor Plan
Top Building Elevation Ideas for Your Sweet Home || Our Home Elevation Gallery
Front Elevation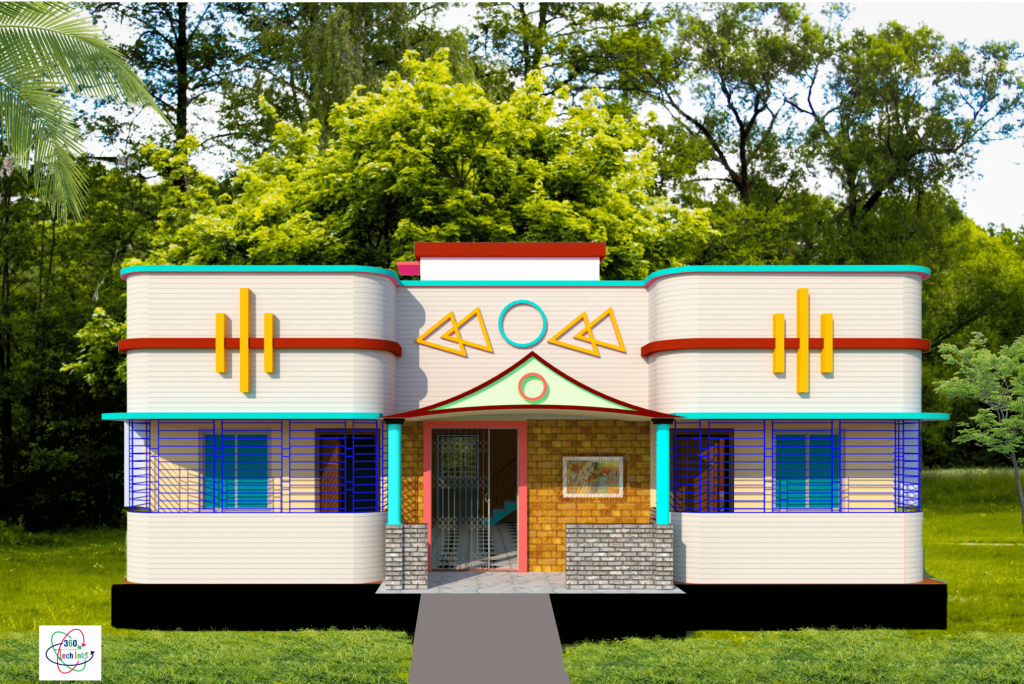 Right Side Elevation
House Plan for 37 x 40 ft Plot Area II 3 BHK House Plan II South Facing House Plan
Left Side Elevation
The outer sidewall in this plan is 230 mm thick and the inner wall is 125 mm thick. The door D1 is- 1000 mm x 2000 mm, D1- 900 x 2000 mm. Window W size 1500 mm x 1200 mm
Note- If you need this plan with structural details then comment on us. We can deliver the best possible service to you. Also, we are a building design service provider.
[RH_ELEMENTOR id="1294″]