How to check the Quality of cement when it is received at the site?
When concrete fails, one of the culprits maybe cement. Do you know that cement might be the one to blame when concrete fails? Often one of the main things is to check the quality of cement to prevent concrete failure.
When the cement is delivered at the project site, it is vital that the condition of the cement is checked to prevent failure and project interruptions due to poor quality cement.
Bulk cement is transported in bags and bulkers.
Make sure the cement on site is of good quality by checking the following.
(The ISI mark indicates that the cement bags are standard and follow the steps that ensure a quality product and, in that case, no third-party testing report is required. However, you can do third party testing if your client requests it)
You can check the cement manufacturing details on the side of the bag to discover the week, month, and year that the cement was manufactured.
When does week 1 begin in the calendar and on what day?
The first week of every year starts on January 1.
When checking the cement's manufacturing details, check how old it is.
It is recommended to consume cement within three months after manufacturing.
Nobody knows the conditions under which cement is stocked by a supplier or trader.
Your company should purchase cement directly from the manufacturer, ensuring that you receive fresh cement and that it is not altered or damaged due to storage at the supplier's or trader's place.
In our company, manufacturing week on bags is printed after bags are loaded with cement, and then they are sent for stacking or directly in wagons (iron hooks are not used).
It is possible sometimes to receive bags on which the manufacturing details are not printed correctly (In such cases, contact the manufacturer and get written confirmation from them via email before accepting the bags. This will ensure the rectification of the printing process and other engineers will receive bags with clear printing.) Don't accept cement older than one month (include this requirement in the purchase order to avoid disputes in the future).
So we came to the point of how to check the quality of cement at the site.
Physical Property Checking
1. Cement Colour
Limestone color and the performance enhancer additives such as fly ash make a big difference in the performance of the concrete.
In most cases, cement towards off-white shade does not mean it has more fly ash or other additives (Example – AAC Cement – it has a white limestone, so the color is slightly pale than gray shade)
In general, cement is a shade of grey, which may be dark or maybe faint.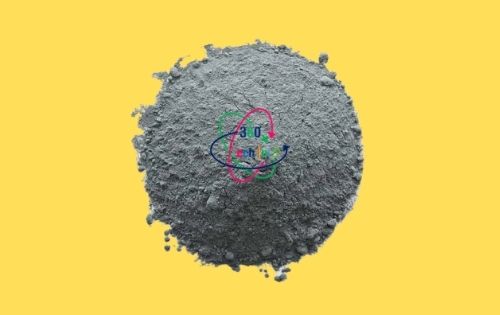 In order to be able to understand the manufacturing process better, your company should arrange a visit to the manufacturer's plant (such visits are provided free of charge to the customer upon request)
2. Smoothness of Cement
When you rub cement in your fingers, you will experience silky smoothness because of its fineness. If grinding has been done incorrectly, you can feel roughness in the cement. If this occurs, you should check the fineness of the cement.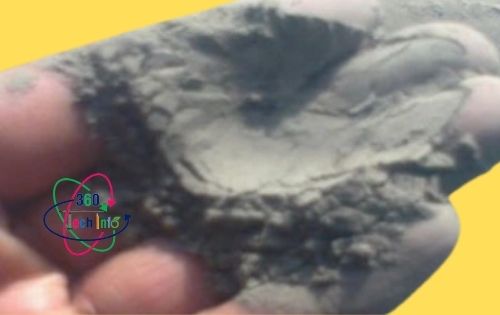 3. Lumps in Bag
A soft lump forms when the dead weight on the bag is too much and it breaks when we roll it. A hard lump forms when cement is exposed to moisture, such as rainwater entering the bag during transport. In this case, cement hydrates and gets hard.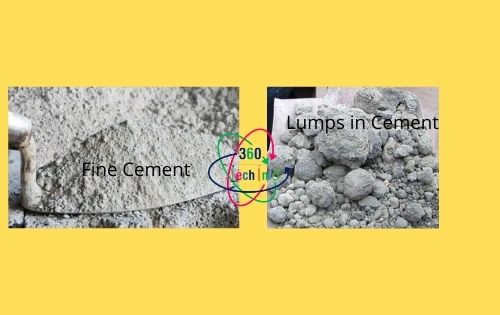 4. Hand Insertion
Take your hand and put it into the cement bag; you should feel a cooling sensation. The results indicate that no hydration reaction is occurring in the bag. It is the best way to check the quality of cement.
5. Float Test
Put a small amount of cement in a bucket of water. It should sink and not float.
6. Smell Test
Smell a pinch of cement. When too much pounded clay and silt is added to the cement, the paste will smell earthy.
7. Consistency Test
Water demand by cement is generally higher as the cement demand increases and vice versa.
In general, cement consistency varies from 27 to 34%, with older cement showing lower water demand due to partially hydrated cement.
Additionally, less fine cement tends to require less water (coarse material has a smaller surface area than finer material).
As per IS 4031 part 4, cement consistency should be tested at 27 +/- 2 degrees Celsius with 65 +/- 5% relative humidity.
The results from a consistency test can still be recorded if the lab is not set up with precision. You can also verify the results with previous results obtained in the same environment.
8. Shape Test
Prepare a stiff paste by mixing 100g of cement. Prepare a cake with sharp edges and place it on the glass plate. Take a plate and immerse it in water. Ensure that the shape doesn't get disturbed while settling. It should be able to set and achieve strength. Because cement is capable of setting underwater as well, it is often referred to as hydraulic cement.
9. Compressive Strength
For every batch of cement received by the engineer, he should check its compressive strength. This way, he ensures no failure in the real world.
Most lab conditions at these sites are not standard, so engineers can compare his results with previous tests of the same cement under similar conditions. Do ask your company owner for the standard conditions of your laboratory, as this may save a great deal of money on repair costs.
10. Bulk Cement Receive Test
Bulk cement does not have the manufacturing information printed on it. By reading the dispatch challan details, you can verify it. On dispatch challans, the seal numbers marked on seals are mentioned which are affixed to the bulker openings after the cement has been fed in.
Verify that the number written on the seal and the challan is the same before opening the seals.
Once it has been verified, we would inspect it like we would bag cement. Check the quality of cement
11. Preserving the sample from each lot
Cement samples should be preserved in air-tight bags or containers with all the details regarding the batch. If the manufacturer does not accept the failure, this will enable a dispute to be resolved in the future if concrete fails at the project and allow you to blacklist him in case of future failures.
A preserved sample will give you an accurate picture of the cement that was actually manufactured.
A concrete failure can be caused by many factors, including
At the site, the cement is in good condition for storage.
Concrete batching condition.
Errors in cube casting, etc.
Don't be afraid of cement companies, mistakes can happen at the plant due to carelessness (chances are less due to automation and automated systems at plants, but humans can make mistakes too)
Conclusion
We hope the information above will help you check cement at your site when the next lot of cement arrives.
Please let me know if I missed anything or if you have any questions about it. In this way, engineers can ensure that cement has been checked correctly.