Description
Drawing is a very essential thing for a new building Construuction. And approval of drawing from required authority is more important. Here you get Building approval drawing in AutoCAD version.
In this drawing the building is north faced. The total floor area is 65.4 Sqm or 704 Sqft. This is aG+1 building plan but initially it is construct for only ground floor so we apply for the building with only ground floor plan as per party's requirement.
This file is with various required detailed for approval of drawing. The drawing file is made on 1:1 Scale. The file is easy to access and download. The file is on 2007 version of AutoCAD.
Specifications in floor plan
Two bed room of size 2.9 mx 3.7 m (9'8"x 12'4") and 2.9 m x 3.4 m (9'8"x11'5"),
There is also an attached toilet of size 2.9m x2.1m and a
Kitchen of size 1.5 x2.4 m,
Dining space is also 1.5 m and 6.9 m.
Stair case is in the front side of the building.
Drawing room of size 2.9 m x 1.68 m is shown in the drawing at north west side, right hand side of entrance.
One open sitting or rest place is shown in the drawing at left side of the building plan means north east side.
Below is the ground floor plan of the attached Approval drawing.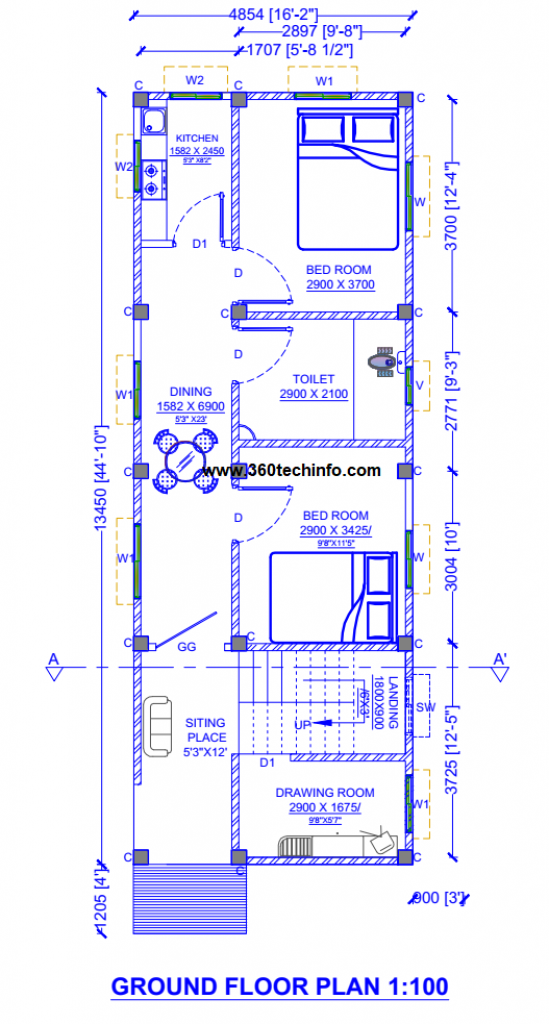 Detailed available in the drawing file
Front elevation
Detailed Floor Plan
Detailed Section drawing
Column details with section of column up to roof
Foundation layout plan
Beam layout datils
Beam section details (Ground beam, Roof Beam)
Slab cross sectional details
Lintel with chaja details
Site plan with available details.
Drawing detailed note
Opening details
Area Statement
building approval drawing in AutoCAD.
Download it with payment of a very small amount and you will get a very essentials file for every building planner or  Civil Engineer.