Top 10 useful software for Civil Engineers
Civil engineering is a very vast field in engineering. Present-day everything is going fast and fast. People have less time to do hand calculations or manual drawing. Also, software technology is growing day by day. At the same time, civil engineering is not behind them. As technology has evolved, so has the amount of software that can be redesigned and redesigned. The following is a list of software/applications used by many engineers around the world. Also, find below the top 10 useful software for Civil Engineers that every engineer should accept.
Why software needs for Civil Engineering?
Software is a program-based application where you can do any measurement, Design calculations, Drawing, Scheduling in an easy way. There is no need to do anything manually. You can save your time you can do an extra job; you can do error-free works by using the software. As same as in Civil engineering, there is much software to helps you to smooth your daily work.
Now we going to discuss about top 10 useful software for Civil Engineers.
Top 10 useful software for Civil Engineers
Drawing and drafting Software
AutoCAD is a 2D and 3D drawing tool used by engineers and designers. AutoCAD is a leader in the field of design and production drawing. It is the best tool for engineers. AutoCAD is the product of Autodesk; Autodesk released AutoCAD in 1982 and many types of options have since been developed.
In AutoCAD there are various features available, you can do 2D,3d both drawing by AutoCAD. It is a large-scale software in drawing design field.
Every civil engineer may Diploma or B-tech have to must learn AutoCAD to enhance their carrier graph.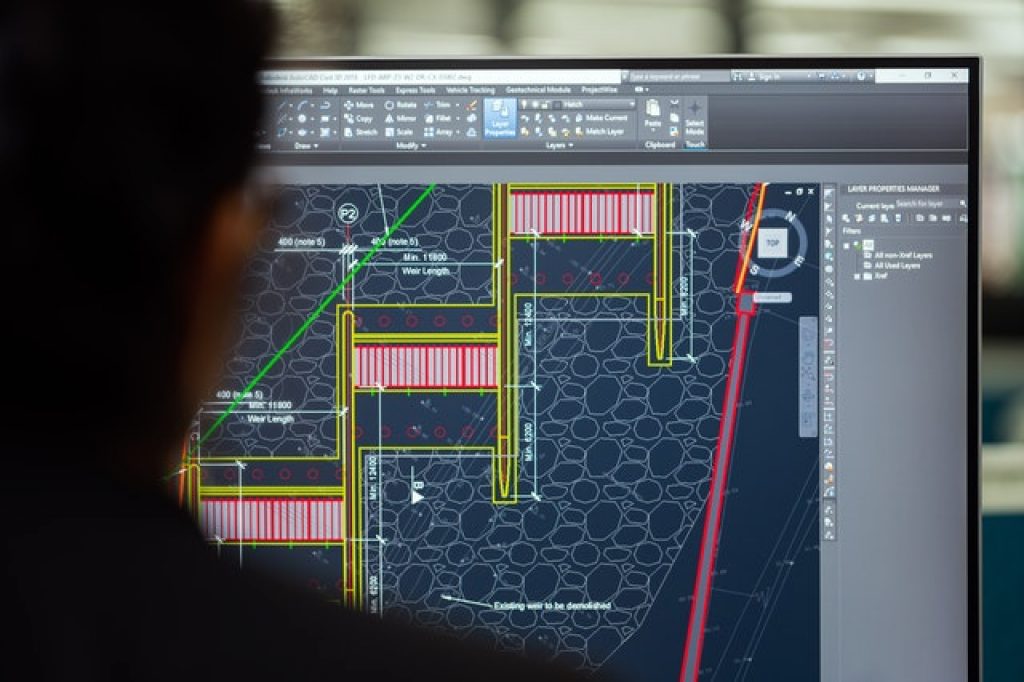 Features available in AutoCAD-
Create and design 2d and 3d model.
Simple and easy to use
Customize and achieve professional design.
Increase results and performance.
| | |
| --- | --- |
| PRICE | For Student |
| It is a paid software 1-year subscription is about 75000 per year or you can get a Quote from Autodesk for a price discount. | Autodesk gives a free 1-year license for students. You can enroll through Autodesk account signup and prove yourself as a student |
AutoCAD available in various versions the latest one is AutoCAD 2021, in this version there is much user-friendly features and options are available.
The new Google drive options is enabled there, you can access any file anywhere and save your dwg file in google drive with recommended Autodesk id.
If you want to learn AutoCAD, we provide some book links to helps you to identify the correct one, check below link, this is an Amazon link for purchase AutoCAD books at a discountable price.
Structural Design Software
STAAD PRO is a designing software, civil engineers who are in design filled or want to go in designing section, you must learn STAAD PRO.
It is product of Bentley. In this software you can do design any types of structural analysis like RCC, Steel Structure, Aluminum Structure etc.
It's available for various option as design firm's own need.
STAAD.PRO
STAAD.PRO ADVANCE
Structural Enterprise
Features available in STAAD.PRO-
Convert automatically from your physical model in to analytical model.
All Coadal provision available in STAAD.PRO.
Include foundation design and analysis.
Easy to use.
Eurocodes and Indian codes included.
Wind loading included.
| | |
| --- | --- |
| PRICE | For Student |
| You have to apply for a quote for a price through the Bentley website. | If you are a student, request your School Code from your professor or academic advisor. |
If you want to learn STAAD.PRO, you can purchase book from our attached Amazon link for best offer and deals.
ETAB is the ultimate integrated software packages for structural design and analysis of buildings. It's new version is a revolutionary and innovative product. ETAB is a product of computers and structures.inc. Especially it is very handy software for multi-storied building design and analysis.
Features available in ETAB-
ETABS integrated every aspect of the engineering design process.
CAD drawing can be directly inserted into the ETAB.
Equipped with all required tools.
Work with easy and reliable.
Accurate liner and non-linner analysis.
To learn ETAB you have to check the below link for a preferred book with a great discount from
| | |
| --- | --- |
| PRICE | For Student |
| You have to apply for a quote for a price through the Etab website but the general cost running today in India as Standalone license for plus 5000 | Academic Licensing is offered specifically for universities, and academic institutions. |
If you want to learn Etab as a expert then follow below link from Amazon to purchase Etab tutorial
3D Design Software
SketchUP is a powerful software for 3d model development. We can make 3d elevation, floor plan, sections, and many more. It is a paid software but apart from all 3d software it is very much easy and user friendly. Mutch of materials and texture in billed with it.
SketchUp Pro 2020 comes with a built-in editor and specialized tools that allow users to display easily and reliably. Users can design step-by-step models because they incorporate high-quality management and visual features. Allows users to import data in many formats, including DWG, 3DS, Kmz, JPG, etc. Includes all standard settings, such as zoom, line resolution, circles, camera lens, tape, color, and more. The application includes templates and design models, such as wood, doors, cars, windows, objects, etc. Users can create shadows on their models. Export to support 2D or 3D format or MOV or AVI files.
Features available in SketchUP-
3D Modeling
Very simple and easy to use
Efficient and reliable
DWG file import option.
Various plugin options.
Free 3d warehouse for 3d models.
Edit colors and various rendering extension
PRICE

Free License

SketchUP present price for a 1-year subscription is 1199$.
But you can get the best quote from their website by applying.
SketchUP gives a free license for learning with limited features you can check it on their website.
3ds Max is a product of Autodesk; it is a potent tool for 3d modeling, animation, rendering, and visualization filled. Through this software, you can create a stunning game design, virtual reality environment, and achieve various updated platform. You can create 3d building design elevation, section, architectural design, interior exterior design, rendering, animated work steps, construction sequences, etc.
Click here to Check the software details
Features available in 3ds Max-
Powerful and advanced modeling features
High-quality rendering output
Blended box map
Data channel modifier
Mesh and surface modeling
Very vast from other modeling application
Character animation system
| | |
| --- | --- |
| PRICE | Student License |
| 3D MAX is a Autodesk bed product the given a subscription for monthly 11477/-, 1year for 92040/-, 3 years for 248980/-. I f you want to buy this software then directly apply for a quote on their own website you can get the best quote from them. | Autodesk gives a free 1-year license for students. You can enroll through Autodesk account signup and prove yourself as a student |
If you want to learn 3ds Max there we provide some books where you can learn the step-by-step procedure to draw a model in 3ds max from beginner to expert.
Project Management Software
Engineers who are want to go into the project management filled, they must have to learn project management software to enhance their workflow. Without software, they cannot handle a large project easily. As a market priority, there are two popular software 1. MS Project 2. Primavera.
Microsoft Project (MSP) is an assessment software designed for project managers to manage their work. Depending on your schedule, Microsoft Project allows you to plan tasks, complete tasks, manage resources, create alerts, and more. The services were dedicated and distributed to administrative agencies that were overseen as soon as they were launched. Microsoft Project is part of the larger Microsoft Office suite. There are two versions, Basic and Professional. They both share a unique file format called MPP.
This is a paid product by Microsoft and it commercially launched for windows pc in 1984. Click here to view software details.
It is very easy to use software apart from all project management software.
Top 10 useful software for Civil
Features available in MS Project-
MS Project is very much easier than any other project software.
Grid view, Board view, Timeline view, or Gant chart are available.
Communication and collaboration features include in the new MS Project, you and your team can work together on the same worksheet.
You can track the project portfolio and program here.
If you want learn or want to expert in MS Project then purchase learning course from Amazon
7. Primavera
Primavera is a cloud base online project management software. It is designed for engineering and construction projects by the world-famous software design company oracle. This is a very good facility given software for a large company to manage its workforce aligned to schedule a project very first.
With knowledge of this software, you can enhance your carrier in project management systems from a regular project practitioner.
Features available in Primavera-
You can increase planning efficiency from any other tool.
World-class planning implementation
Adaptable view
Easy to use
Multiple project scheduling in one time
Project cost coordination system
Self-guided demo available
Free of cost eBook available for learning
If you want to learn Primavera then follow below books
General Software for All
8. MS Office (Word/ Excel/ Power-point)
Microsoft office is one of the very essential software for all computer users, workers, students. Without office software, you never do anything in a computer job. For engineers and engineering student's knowledge of word, excel and power point must need for all aspects.
For engineers excel must need for estimation work, bill preparation, payment document preparation, stock maintain, bar bending schedule making, design sheets, and many more.
Word needs for project report preparation, photo collaboration, daily report submission, and many essential needs.
PowerPoint needs for Presentation, flyer, advertising, and many designs related needs.
Must learn advance excel for growing up with various features like macro, VBA, and many programming options. It helps you to the smart worker in every aspect and make you time a consumable worker from the regular worker.
MS Office now available as office 365 which is online and offline option. You can work through any of your device from anywhere.
If you want to purchase MS Office then follow below from Amazon
Top 10 useful software for Civil
Want to learn MS office as a professional then purchase course from Amazon with Below link
BIM Software
Revit is a product by Autodesk. It is a building information Modelling (BIM) software. Revit is a very vast and multipurpose software for planning, designing and construction of all buildings, also it is collaborative multi-discipline design support.
Features available in Revit-
Generative Design
Parametric Component
Annotation
Global Parameters
Various Addin
3D Structure designing and render
Construction material calculation can do here.
If you want to learn and master in Revit then can go with Below books-
Road Design Software
10. MX Road
MX Road is a road design software developed by the Bentley System. All road-related drawing design contouring is done in this software with automatic output. Engineers who are interested in road construction and road design then you have to must learn this software.
Features available in MX Road describe by Bentley-
Dynamic and interactive 3d models of roadways.
Create Horizontal and vertical alignment.
Model and analyze terrain.
Model earthwork.
Perform design-time analysis.
Support BIM workflows.
Automatic design production.
Conclusion: In the above article I am giving some ideas about Top 10 useful software for Civil Engineers. Learn that above software to gain much knowledge and advance worker.