Uses of Geotextile Bag or Geobag in Civil Engineering.
Geotextile bag or Geobag is the most used Geosynthetic product in the present days. We can use the uses Geotextile bag or geobag in civil engineering infrastructure development projects like River erosion control, Coastal protection, Reinforced Earth wall, Back-filling, Scour hole fill-up and much more. As it made from polymer products, its lifetime is longer than a conventional Cement bag or any other filled bag.
The application of geobag is very easy. It needs minimum construction time with minimum machinery and equipment with unskilled and semi-skilled manpower. In present days geobags are used as the replacement of boulder.
What is Geobag?
Geobag is a Pillow shape bag or container which produce from the stitching of Woven or Nonwoven geotextile fabric. Generaly it is stitched at two sites and the mouth is open for infill, after filling need to close the mouth with hand heled stitching machine.
Geobag is filled in site with Sand, Soil, Crushed Stone or available filling materials. But sand is the suitable infill material for geobag for its best result.
Types of Geotextile Bags
Geobag is mainly Woven Geobag, Nonwoven Geobag, and Composite Geobag. Geobag is mainly Identified by their Mass properties as GSM- Gram per Square metres. In the market, there are available various types of Geobags with different GSM. Geobag is available with a range of 100 to 1200 GSM.
Raw material of Geobag
As Geobag are made from Geotextile, so that its raw material are mainly PP-Polypropylene or PET- Polyethylene
Size of Geobag
In India, the maximum use geotextile bag size is like below-
1. Geobag TYPE-A (1.03 M X 0.7 M)
2. Geobag Type -B or Geocomposite Megabag (2 M X 1.5 M)
Other than above, geotextile bags can be made in various sizes, it is absolutely on a requirement basis.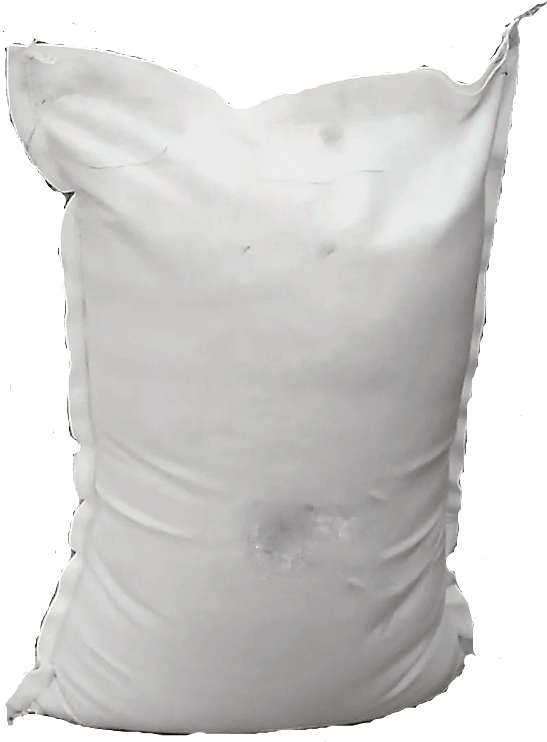 Technical Properties or Specification of Geobag
Geotextile bags have various types of technical specifications. They have their own properties. Here we share a sample technical specification of 300 GSM (Gram per Sq. M) PET Geotextile bag.
| | | | |
| --- | --- | --- | --- |
| Properties | Unit | Test Method | Value (TYP) |
| Mass per unit area | GSM | ASTM D5261 | 300 |
| Wide Width Tensile Strength (MD) | KN/m | ASTM D4595 | 9.0 |
| Wide Width Tensile Strength (XMD) | KN/m | ASTM D4595 | 9.0 |
| Wide Width Tensile Elongation (MD) | % | ASTM D4595 | 50 |
| Wide Width Tensile Elongation (XMD) | % | ASTM D4595 | 50 |
| Trapezoid Tearing Strength (MD) | N | ASTM D4533 | 340 |
| Trapezoid Tearing Strength (XMD) | N | ASTM D4533 | 340 |
| Static Puncture strength | N | ASTM D6241 | 1400 |
| UV Resistance (500 Hrs.) | % | ASTM D4355 | 70 |
| Apparent opening Size | µm | ASTM D4751 | 100 |
| Permittivity | S -1 | ASTM D4491 | 1.25 |
| Bag Dimension | M | – | 1 x 0.7 (O/O) |
| Volume of filled Bag | Cu. M | – | 0.07 |
| Weight of filled Bag | Kg | – | 126 |
Applications of Geotextile Bag / Geobag
We are going to discuss the uses of Geotextile Bags. It is rapidly used worldwide in infrastructure projects as short-term and long-term or permanent structures. Maximum use of geo bags is in River projects, Coastal Erosion Control Projects, etc.
In River, Geotextile bag used as-
Riverbank protection work-As slope pitching in place of conventional boulder pitching.
Apron pitching, Scour hole fill-up.
River Embankment Protection Work.
Constructions of River Spur, Groins, Deflector.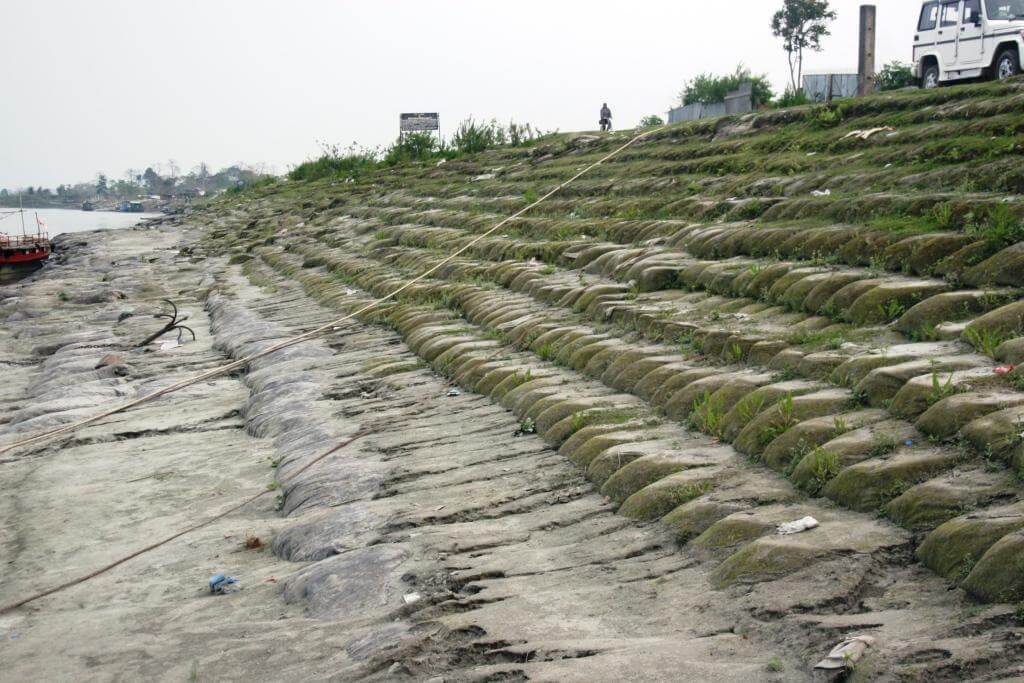 Uses of Geotextile Bag in Coastal Application-
Sea wall construction.
Spur constructions.
Scour prevention.
Uses of Geotextile Bag in Road Embankment-
Geobag can use to protect road embankment slope.
Geobag can use as a facia of the Retaining earth wall.
But on wide basis Geobags are used in India and Bangladesh as a main riverbank protection material from the last decade.
Uses of Geotextile Bag in projects are more nature friendly and economical from conventional method.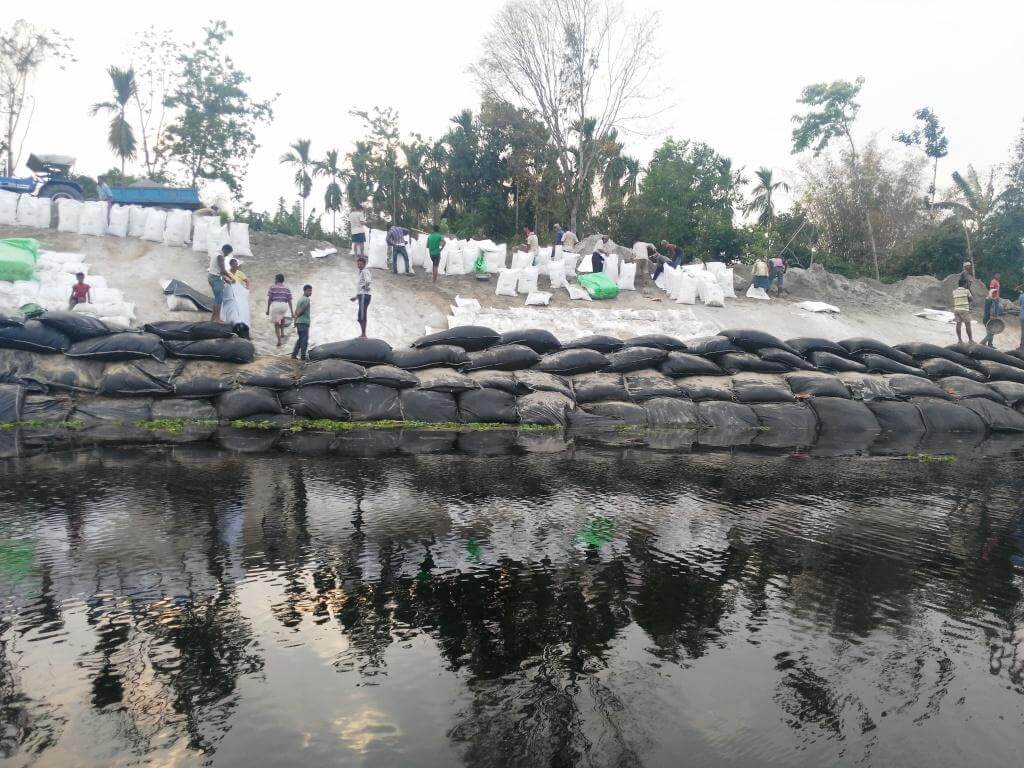 How to use Geotextile Bags?
Geobag Installation Procedure:
Handling geobag :- Unpack the bags at the site where the filling has to be done. If some unpacked bags remain after filling, it should be counted, repacked, and kept wrapped in its packing sheet or any other suitable cover to prevent ultraviolet exposure.
During loading, transport, unloading, and dumping processes the bag shall be lifted and handled with care, without overstretching the geotextile, puncturing the bags, destroying the seams, or causing any other defect which will reduce the quality of the bag as a protective element.
Counting by Setting a counter: – Generally, Geobags are packed in 100 nos in a bale with a bunch of 10 by 10 (10 x10).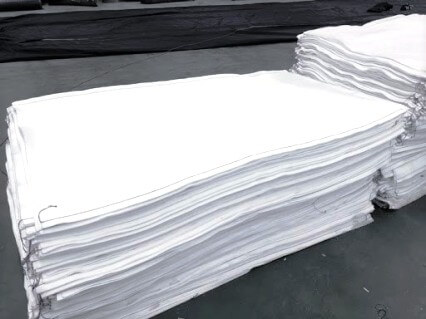 3. How to fill Geobag
Site selection – Filling of the bag takes place in an appropriate area clean and free from flooding, wave action or threat of erosion. Space for filling should be at least 3 times the daily average filling rate. Excavation of sand at or near the site should be prohibited.
Filling material (sand) selection – The quality of sand or filling material should be as per the specification agreed upon. but generally, geobags are filled with sand, earth. Using of sand in geobag is more effective. For that Geobag are also called as Sand bag.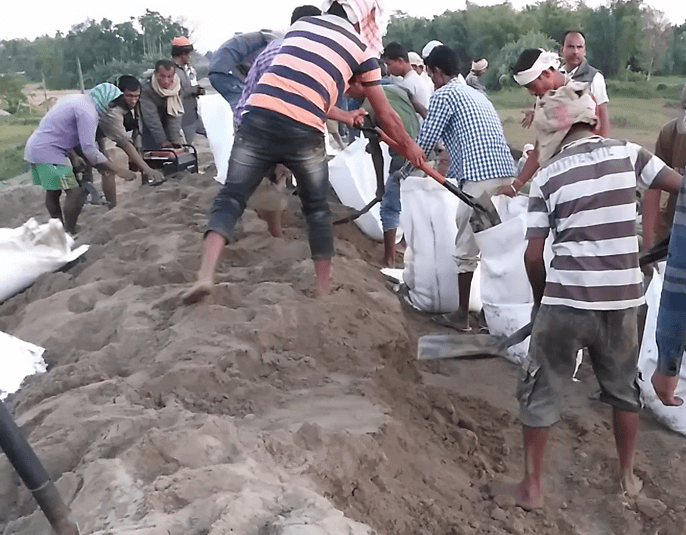 Methodology –
i) Earthmover or excavator
ii) Shovel – 1nos / 2 nos of labour.
Manpower-
I) labor
ii) supervisor
iii) Civil Engineer

Firstly, stockpile the sand in distinct heaps not exceeding 2000 cum by excavator or earth mover.
Secondly, fill the bags with specified sand manually with a shovel and vibrate the bag manually for proper filling after every 30 cm of filling. Weight should be checked randomly. Bags should be filled in a stack of hundred nos of the batch for easy counting for example 10 x 10, 5 x 20 etc. as per site condition. After that stack should be numbered, e.g. X, Y, etc. Now bags are ready for stitching.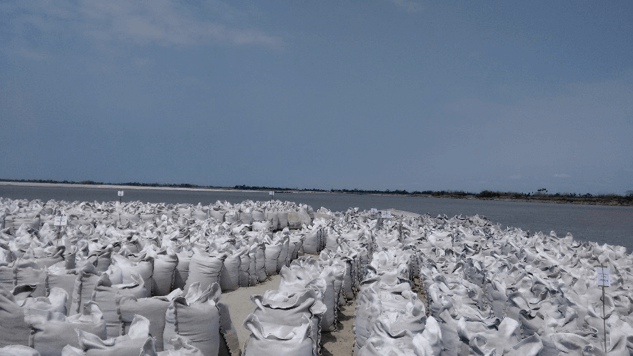 How to Stitch Geobag mouth?
Stitching: –
Quality of stitching- Bag will be closed by two line of stitching. The stitching shall be a 'staple' or 'prayer' seam with double chain stitch. The stitches will be placed at a minimum of 2 cm but not more than 2.5 cm from the top of the bags and minimum 3mm apart. The end of the first seam must be secured by the second arch-shaped seam crossing the first near the ends.
Methods of Closing Geobag mouth

Machinery Requirements
Double-needle/ single-needle Stitching Machine
Portable Generator or 5 KVA DG set
Needle – As requirements
Other accessories of sewing machine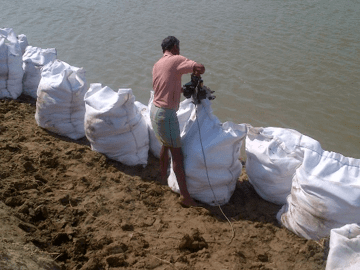 Manpower-
1 Stitcher
1 mechanic / 15 machine
supervisor
Engineer
First, the stitcher checks the Electric handheld sewing machine and the power supply before starting stitching operation. If it's a double-needle machine then two threads are attached to the machine and if one, one is attached. After that stitcher begins stitching –one at a time. Stitcher should be a trained person to ensure safe and quality work. There must be extra 1.25 times of total units of working Sewing machines which are needed on a daily basis.
Placement of bags on the slope: – Placing the bags on the slope, confirm that the slope is in proper shape and size. Generally, bags are placed in the ENGLISH BOND style. Bags are placed from bottom to top on the slope.
Methodology
Required Accessories-I) Rope ii) Bamboo or wooden runner
Manpower- I) 10 labours, ii) 1 supervisor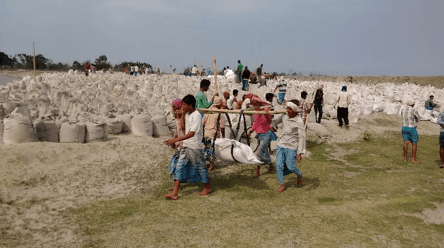 This operation is done completely manually. For bag placing on a slope, Chainage is divided in 10m intervals and marked with survey pegs. Bags are placed as- first layer horizontally then the second layer is placed laterally (longitudinally). Ropes and bamboos are used for shifting the bags.
Placement of bag Under Water:-It is the same as a dry surface but needs to be monitored carefully. 
Dumping of bags with and without boat: –
Geobag are dumped with the boat (or as provisioned in the contract) if the water depth is more than 1m. Each unit is guided under an expert supervisor.
As per the working length of the boat, chainage is divided into intervals, and chainage pegs are placed accordingly. Bags should be dumped from the inside river towards the bank. For anchoring purposes, boats are tied with rope on the bank and river anchor.
On both ends of the dumping area around the boat, two measuring ropes are tied for proper placement of bag dumps. Bags are dumped horizontally in specified layers and at distance as per the measuring rope.
Bags are loaded on the boat manually or mechanically as per the site condition. Bags are horizontally stacked in layers on a boat for easy accounting and ease of dumping.
The dumping process without a boat is similar to the placement of bags in dry conditions and underwater.
In INDIA there are many manufacturers and consultants are establishing geosynthetics products like Geotextiles, Geotextile bags, and many geosynthetics products to grow up India's infrastructure.
Also you may Read